Infrared thermography inspection is the process of looking for abnormally hot or cold areas on a normal component. It is a reasonable non-disastrous assessment procedure for the portrayal of erosion in metallic materials and is the most straightforward of all warm review strategies. Infrared thermography inspection is essential for research and testing applications in industrial and academic laboratories because it provides quick and precise temperature measurements.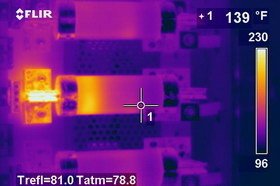 Let us look at the advantages of getting an infrared thermography inspection:
The main advantage of infrared thermography testing is that large areas can be quickly scanned without having to be destroyed. This results in significant time, personnel, work, and machinery savings.
Because it doesn't give off any radiation, the infrared thermographic device doesn't pose any dangers; it only keeps track of the infrared radiation that comes from the material being evaluated. Additionally, in contrast to the majority of the other non-destructive methods, infrared thermography is a technique for investigating an area. Additionally, infrared thermographic testing can be carried out both during the day and at night.
In condition monitoring, infrared thermography makes it simpler to identify issues related to heat, thermal anomalies, mechanical issues, and many more.
Because it employs infrared technology, thermography is unable to penetrate great depths. That is one of the fundamental constraints of the method. When conducting passive outdoor infrared thermographic surveys, environmental conditions (such as cloud cover, solar radiation, and wind speed) also play a significant role.
JPEG INC electrical Services identify any aspect that may contribute to the deterioration of your equipment by employing cutting-edge instrumentation and testing methods. We can assist you in developing a short-term, intermediate-term, and long-term strategy to correct or enhance the overall safety reliability and performance of your systems. Contact us at 954-410-3995 if you reside around Broward County, Deerfield Beach, Fort Lauderdale, Hallandale Beach, Miami-Dade County, and North Miami areas.