40/50-Year Recertification in Hollywood, FL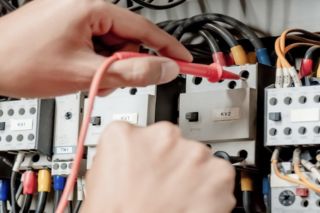 With Florida's severe weather, every building is at risk of several types of damage. That's why all buildings in Hollywood require a 40-year recertification of their electrical systems. They must also undergo a 50-year recertification, confirming their electrical system is safe for use.
When you need recertification in Hollywood, FL, contact our team at JPEG Inc. Electrical Contracting. With hundreds of successful recertifications and our specialized infrared inspection technology, we're a clear choice. Contact us to discover how we make the process stress-free.
Infrared Thermography Inspection in Hollywood, FL
Our success in providing high-quality 40-year recertifications and 50-year recertifications rests in our utilization of infrared thermography inspection. This technology allows us to detect unusual heat signatures in your electrical system without breaking open walls or disrupting your work. Since it requires active wires, you don't shut down your electricity for inspection.
Infrared thermography inspection saves time and money and prevents more serious issues like complete power failure or electrical fires. Only the best-certified level II technicians can perform this type of inspection, and JPEG Inc. Electrical Contracting provides the best electricians in the business. When you partner with us, we'll ensure your system is safe and that you remain compliant for the next ten years.
While we rely heavily on infrared inspection, our recertification covers every area of your system, including emergency lighting, your circuit breaker, and more.
Get a Quote
40-Year Recertification by a Master Electrician in Hollywood, Florida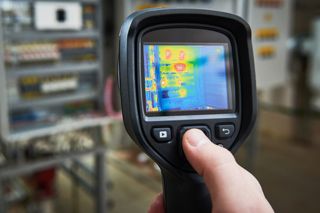 Because of Hollywood's intense weather, every building must undergo 40-year recertification, confirming they're safe for habitation and at low risk of electrical problems. Undergoing inspection every ten years allows you to operate your business with peace of mind. With increased energy efficiency and decreased frequency of repairs and replacement, recertification is good business sense.
JPEG Inc. Electrical Contracting is uniquely qualified to provide 50-year recertification. With over 15 years of experience and hundreds of completed certifications, our certified technicians complete their inspections quickly and with minimal disruption to your business. Don't leave your business's safety and compliance to anyone less than the best in Hollywood.
Nestled between the beautiful cities of Miami and Fort Lauderdale, Hollywood is perfect for urban living directly on the Atlantic Coast. With almost 60 parks, seven golf courses, and numerous beaches, the city boasts luxurious outdoor living and entertainment. Whether it's the Everglades or searching for treasure in a shipwreck, adventurers flock to Hollywood, FL, from all over the world.
Contact us to schedule your 40- and 50-year recertification inspection.
SCHEDULE YOUR 40-YEAR RECERTIFICATION INSPECTION