5 Tips on Choosing the Right Licensed Electrician
Choosing the right licensed electrician is crucial to ensure your electrical work is safe and up to code. JPEG INC provides licensed electrician in and around Fort Lauderdale, Plantation, Sunrise, Davie, Weston, and Cooper City.
Here are five tips to help you make an informed decision:
Verify their License and Credentials: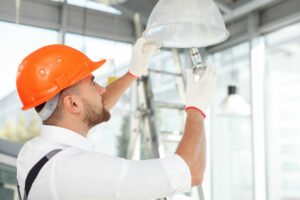 Check if the electrician is licensed to work in your state or region. Each jurisdiction may have different licensing requirements.
Ensure they have the necessary permits and insurance, including liability insurance and worker's compensation. This protects you in case of accidents or damage during the job.
Ask for Recommendations:
Seek recommendations from friends, family, neighbors, or coworkers who have recently had electrical work done. Personal referrals can provide valuable insights into an electrician's reputation and work quality.
Research and Check References:
Look for online reviews and ratings on trusted websites or social media. These can provide insight into the experiences of previous clients.
Ask the electrician for references and follow up with these references to inquire about their satisfaction with the work, timeliness, and professionalism.
Request Multiple Quotes:
Contact multiple electricians to provide detailed quotes for the job. Be sure to describe your project thoroughly to ensure accurate estimates.
Don't necessarily choose the lowest bid; consider the quality of work, the electrician's reputation, and their level of experience.
Assess Experience and Specializations:
Inquire about the electrician's experience with projects similar to yours. Different types of electrical work may require specific expertise.
Some electricians specialize in residential, commercial, or industrial work, so choose one who has experience in your particular setting.
Additionally, during the initial consultation, pay attention to the electrician's communication skills, punctuality, and professionalism. A good electrician should be willing to explain the work, answer your questions, and provide a clear timeline for the project. By following these tips, you can make an informed decision and select the right licensed electrician for your needs. Please call us without hesitation.