LED Retrofits, Commercial LED Lighting, Commercial Lighting Retrofit, and Commercial Electrician in Pembroke Pines, Florida
Want up to 80% Reduction in Lighting Energy Costs Over a Year? Go LED!
You are likely seeing it all over Pembroke Pines, FL where businesses of all kinds are moving to commercial LED lighting in their buildings. There is a good reason for this as LED retrofits provide businesses a way of permanently saving money on their electrical bill. When you are ready for your commercial lighting retrofit make the call to JPEG, Inc. and our experienced commercial electricians. We can help to plan out your commercial lighting retrofit to ensure that it causes a minimum of disruptions to your operations.
For over 15 years our electrical contractors have been working with homeowners and businesses throughout South Florida, including Pembroke Pines, for everything ranging from electrical repairs to full installations. Contact us today to see what we can do for you.
Commercial LED Lighting in Pembroke Pines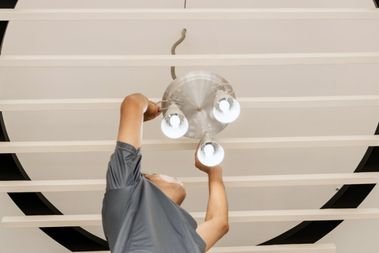 The truth is that commercial LED lighting has come a long way from what it was 10 years ago and more. Where the early LED lighting options often didn't live up to expectations and were more costly, today they provide better light at reduced electrical usage while still having the longevity that is needed for the investment. With minimal cost investment and long-term energy and money savings, more and more businesses are moving to commercial LED lighting.
For many businesses, the current LED retrofitting that happens is merely swapping out the old incandescent or fluorescent bulbs for the new LED lights that are made in the same style. Because of this, they fit right into the same fixtures, making the switch much easier and cheaper. In some cases, you will need more extensive commercial lighting retrofits because the fixtures are older and safety is a concern.
Commercial Lighting Retrofit with Commercial Electricians serving Pembroke Pines
JPEG, Inc. Gets the Job Done Right!
Because not all commercial lighting fixtures are plug-and-play, it takes a commercial electrician to be able to best determine if the fixture will need to be swapped out or if there is something else going on when an LED light doesn't want to work in an existing fixture. When you are ready to engage in your commercial lighting retrofit at your Pembroke Pines, FL business, give JPEG, Inc. a call.
Contact us today to request a quote and get started.
Pembroke Pines was officially incorporated on January 16, 1960. This small property was less than a square mile and was between Hollywood Boulevard and SW 72nd Avenue, and had the Florida Turnpike to the east. Pembroke Pines sought to give citizens involvement, so they organized the Pembroke Pines Civic Association. The square-mile city was unable to expand due to North Perry Airport and the South Florida State Hospital.