Do you need with the electric installations of your new house? Do you need to install new lights in the patio to lighten up your home exterior? Or do you want to fix the broken circuit, fuse, ceiling fans, or other wiring requirements? Well, in all such scenarios, all you have to do is hire a good electrician. We, at JPEG Inc. Electrical Contracting, are the right choice for you. We are an experienced and reputed company which offers a wide range of electrical services. We are known for our high-quality electric services and utmost dedication over our clients. We have been in this field for more than 15 years and provide a solution to all your electric woes. So, if you are from areas such as Fort Lauderdale, Hollywood FL, Miramar FL, Plantation FL, Sunrise FL, or Weston FL, then you can resort to us without hesitation.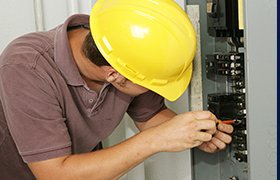 Here, we have put together a few crucial signs of a good electrician. Take a look.
A good electrician is not just the one who has the right knowledge about electric services but must also be able to carry out their job in the most efficient manner possible. Therefore, efficiency is one of the most crucial concerns that you have to keep in mind while considering the different water bottles.
Sometimes, you need an electrician who will not just follow the duties he or she is expected to do but also might have to take a few crucial decisions on their own for a better and safer home. Make sure they have the knowledge and intelligence to take the call themselves.
Last but not the least, an electrician should also be punctual. You might have other tasks to complete at home so if the electrician is late, then it will be greatly inconvenient. You need to make sure he or she is punctual.
So, if you think we can provide you electricians like these, then get in touch with us today.