Running a house is a little challenging. It involves a lot of responsibility and tasks. You have to not just ensure that the house runs effectively. You have to make sure that the different aspects of your home are taken care of. One such issue is electrical issues. Everything is going to be extremely inconvenient without electrical systems. You should check the electrical system at home and make sure that all the appliances are functioning well. It is important to focus on your electrical systems to prevent accidents which might happen if there is a fault in the lines. So, whether you need to handle the electrical repairs or install something, you will need an electrician. We, at JPEG Inc. Electrical Contracting, can help. We are an experienced and reliable company which offers you high-quality electrical services. We have a qualified and experienced electrician who can do everything you need. So, if you belong to areas such as Davie FL, Fort Lauderdale, Hollywood FL, Pembroke Pines FL, Sunrise FL, or Weston FL, then you can rely on us.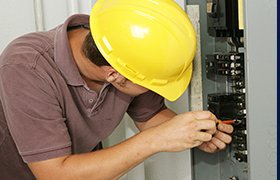 Here, we have put together a few major things to check whenever you hire an electrical repair service. Take a look.
First of all, you should never select the company randomly for your electrical services. You should always check their reputation in the market first. Always go through the reviews, ratings, and feedback of the earlier clients and make sure you will also get a reliable service from them.
You must remember that the service will be provided to you by the electricians. So, you have to also make sure that the electricians are qualified and well-trained to make sure you get the electrical service you are seeking.
So, without any delay, if you think we can offer you the electrical repair service you need, contact us now.