Almost all homes in the 21st century have one or the other appliance that runs on power. Thus, it is imperative that these appliances will malfunction from time to time. We, at JPEG Inc., Electrical Contracting, bring to you our services of rectification of all of these appliances and more. Our services include electrical repairs, wire testing, connection building, and maintenance works, among other things. We are a family-owned business that aims to take care of all kinds of domestic needs of a family in the area of machine rectification. Serving customers in and around the areas of Davie FL, Fort Lauderdale, Hollywood FL, Pembroke Pines FL, Plantation FL, and Sunrise FL is our privilege.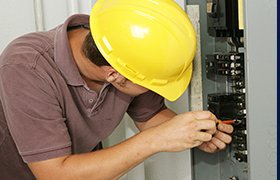 Here, we have put together 3 signs to look out for which will tell you if your home appliances need to be fixed. Take a look.
If your air conditioning machine or your refrigerator is releasing a foul smell that is making life at home difficult, then what you need to do is get professional help to rectify the wrong in the appliance. If it is not done within time, it can cause severe damage to the air quality in your house.
Another sign of problems in the appliance is the production of noise. If any of your appliances emit noise, chances are a working part of its internal mechanism is stuck or has an instruction. When this happens, it is a safer bet to get the machine checked out. It will surely save you a lot of trouble in the long run.
Unsatisfactory Results from Usage
If your heater is not releasing enough hot air or if your oven is not baking properly, you will need to get these devices checked. This is true for any appliance in your house. Whenever its functionality is reduced, you need to get it checked.
So, if the appliances in your home are showing the tell-tale signs of malfunction, get in touch with us without any delay.