Is the ceiling fan in your bedroom not working? Do you have trouble in installing the new microwave? Are you getting increasingly high electricity bills? Well, all these could mean that your electrical lines in the house have a damage or you need help with your electrical equipment at home. You must resort to an electrical repairs company as soon as possible. We, at JPEG Inc., Electrical Contracting, is the right choice for you. We are an established and reputed company with an experience of more than 15 years. We can help you test, repair, maintain, install, as well as connect the electrical lines in your home or office. We are known for our qualified, well-trained, and efficient team which is always dedicated towards us. So, if you are from areas such as Davie FL, Fort Lauderdale, Hollywood FL, Plantation FL, Sunrise FL, or Weston FL, then you can resort to us.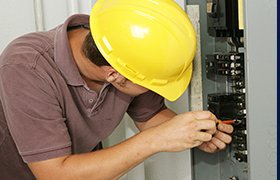 Here, we have put together a few major tips on how to find the right electrical repair service. Take a look.
Always take recommendations
You must understand that you should never randomly choose a company to tackle your electric needs because if something goes wrong in the hands of an amateur, you will be regretting for life. So, it is better to go with the referrals from reliable people who have experience in this matter.
Next, you can find the right electrical repair service when you search online. Look up the internet and check which well-known companies that have received good customer feedback and online ratings in the market. After being satisfied with their experience, you should take a decision.
So, after following these tips, you still think that we can provide you with a good electrician, then you can contact us without any further delay.