Commercial Lighting Repair in Plantation, FL
When envisioning your commercial lighting, you should imagine what lighting design best suits your business. For example, are you going for an ambient glow or statement brightness? With JPEG, Inc., our commercial lighting maintenance and electric systems provide your Plantation, FL, business with any lighting solutions imaginable.
If you've been looking for ways to cut electrical use, you may want to start with your current commercial lighting. A significant benefit of upgrading a commercial lighting system is that it saves money on electric bills. Our energy-efficient options will reduce your electric output while saving your business money.
At JPEG Inc, our commercial electrical contractors offer hassle-free installations. We additionally retrofit as part of any commercial lighting repair, meaning we can upgrade your current lighting system. See how easy it is to swap out the old for the new and enrich your commercial lighting.
Indoor Commercial Lighting and Commercial Outdoor Lighting in Plantation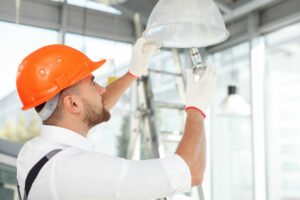 There are many ways the right form of lighting can work for your business, down to the fixture itself. Old and dated lights may function, but ask yourself, does it enhance the look of your business? An updated lighting fixture is a great way to achieve an additional "wow" factor.
Ample lighting is an excellent way to enhance the environment of your business. A gentle glow can guide your customers along a pathway or floodlight your product, front displays, and center aisles for outdoor commercial lighting. JPEG Inc., of Plantation, FL, can assist with all things commercial outdoor lighting.
Commercial Electrical Contractor Serving Plantation, Florida
Whether you offer outdoor services or indoor shopping, you'll need your patrons to see where they're going. To avoid a power outage or system failure, inquire about our Electrical Infrared Thermography services. By using specialized equipment, our commercial electricians scan your equipment to ensure nothing is close to overheating.
Infrared Thermography is one of our most popular electrical services and is a great preventative measure for commercial lighting repair. Our certified commercial electrical contractors can administer a test for your business.
As our town motto goes, "the grass is greener" in Plantation, Florida. Our impressive golf courses, malls, and gardens stand out amongst the rest in Broward County. So whether you're taking a stroll through the Everglades wetlands of Plantation Heritage Park or grabbing a bite off of University Drive, consider JPEG, Inc., for all of your commercial lighting repair needs.