Are you setting up a new house? There are a few basic requirements in a house like lights and fans. Therefore, the first thing you need to do is look for an electrician for your lights and ceiling fan installation. But you must make sure that the electrician you are hiring is knowledgeable and highly professional. We, at JPEG, Electrical Contracting, can be the right choice for you. We are one of the most established and reliable companies which has been in this business for more than 15 years now. We can provide you with all kinds of electrical services, starting from lights, ceiling fans, generators, data and communication, security systems to even emergency lighting, outdoor lighting, heaters, circuits, fuses, CAT6 cabling, and so on. We are known for our smart, experienced, and qualified electricians along with our utmost dedication and commitment to all our clients. So, if you are based in areas like Fort Lauderdale, Weston, Plantation, or Southwest Ranches, FL, then you can opt for us.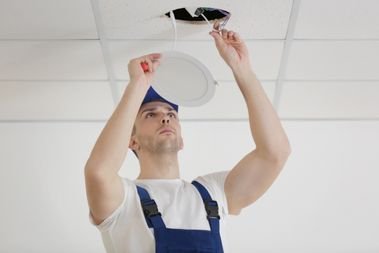 Here, we have put together a few reasons why you should hire professionals for your ceiling fan installation. Take a look.
One of the reasons why you need a professional electrician for installing a ceiling fan is because of the knowledge they have. They have received formal training and knowledge in this regard which will be missing in an amateur. Therefore, there are better chances of getting a full proof service from them along with some maintenance tips as well.
Another reason why you need to hire a professional is that you can save a lot of money. An amateur will make mistakes and might even damage the ceiling fan. You will have to pay for the installation twice as they might not do a good job as well as replace the ceiling fan if it is damaged beyond repair. Instead of making such unnecessary expenses, you should go for a professional from the beginning.
So, if you are interested in choosing us, contact us today.